Wyrd Science - Vol. 1 / Issue 3 - The Horror Issue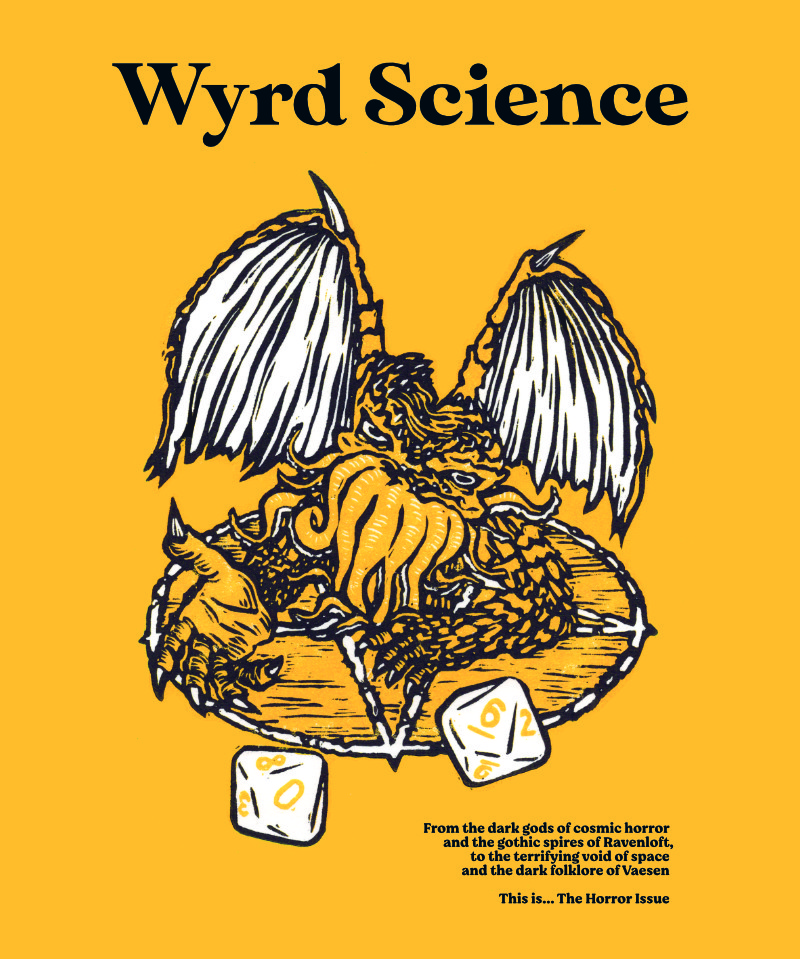 Wyrd Science returns for our third issue, an exploration of the dark and shadowy corners of tabletop games. 112 pages of interviews, news, features and reviews covering everything from the history of horror RPGs through to some of the best tabletop games of today.
In this issue you'll find...
Quickstart - get up to speed with what's happening in the tabletop world as we speak to Stu Horvath from The Vintage RPG podcast, KNOCK! publishers The Merry Mushmen, Tazio Bettin - illustrator of the new, 40th anniversary Fighting Fantasy book, David Hughes from Plumeria Pictures on the re-release of Monsters & Mazes, Jonathan Sacha about his new Goblins & Gardens Tarot Deck & more!
Main features
Acclaimed roleplaying game historian Shannon Appelcline, author of the acclaimed Designers & Dragons series, takes us on a tour of the near 50 year history of horror RPGs from the sword & sorcery books that inspired D&D, through to the dark days of the satanic panic, the vampire obsessed 1990s and onto today.
Connoisseur of the dark, Jack Shear, looks back at the gothic literature that helped shape the mist shrouded domain of dread that is Dungeons & Dragons' iconic horror setting Ravenloft.
We head to the Mythic North and explore Nordic folk horror RPG Vaesen with Graeme Davis, veteran writer behind games such as Warhammer Fantasy Role-Play and author of the Vaesen's new Mythic Britain & Ireland supplement.
Indie game savants Adam Vass and Will Jobst sit down with Samantha Nelson and talk us through Campfire, their new game of spooky storytelling and the horror anthologies that inspired it.
Stuart Hall looks at that staple of horror RPGs over the years -the sanity mechanic- and examines how attitudes to mental health in tabletop games have evolved over the years.
We launch ourselves into space in search of horror amongst the stars and speak to those behind games such as Mothership, ALIEN and The Wretched to see how they go about adding chills to the inky void of space.
Luke Frostick meets up with the team from British design studio Rowan, Rook & Decard to learn what terrors inspired their award winning RPG Spire and how they've built a company that's anything but a horror show.
Walton Wood speaks to Paolo Greco about The Book of Gaub, a new tome of wicked wizardry and maleficent magic that aims to put the sinister back into sorcery.
We head to South America and talk to Brazillian game and graphic designer Guilherme Gontijo about his love of giallo horror films and his stunning looking new game Blurred Lines.
Dan Thurot from Spacebiff.com explores how, and indeed if, board games can truly deliver a fearful experience.
And we speak to Joseph McCullough about his latest war-game of Napoleonic Horror, The Silver Bayonet
All that plus our review section covering the latest RPGs, wargames, boardgames and books you'll want to be checking out, Anna Blackwell's look at the solo games you should be trying and we catch sup with Mira Manga to see how our resident bard has been getting on since we last spoke...
Download
Click download now to get access to the following files:
Wyrd Science - Vol1/Issue3 - Single Pages
56 MB
Wyrd Science - Vol1/Issue3 - 2 Page Spreads
56 MB